Get involved in the KBOO Evening News team!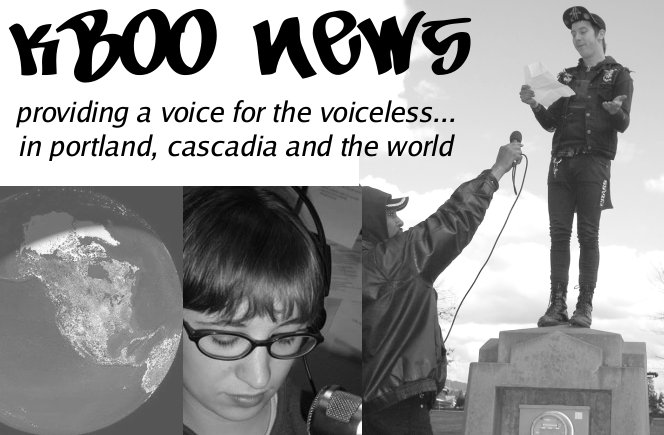 Don't hate the media. Be the media!
KBOO is YOUR community radio station, and you can participate!

What can I do in the news department?
o KBOO provides free trainings for volunteers.
o Train as a radio news reporter/ producer/ researcher. Learn writing for radio, reporting, digital audio editing, interviewing techniques, voicing technique, producing radio news & features (including in-house and field recording techniques, audio selection).
o Be part of the news team, and learn all parts of the news production process.
o Prepare reports and projects for broadcast on the KBOO News
KBOO has ten paid employees and over 400 volunteers. News volunteers work with many other volunteers and staff members. The schedule is somewhat flexible (morning or afternoon hours), but please note that the main production timeline for Evening News is from 10 am -4 pm each weekday.
Qualifications:
We don't have prerequisites, but a passion for news and current events is a plus!
Email [email protected] or call 503-231-8032 ext. 203 to get involved today!
Listen to the KBOO Evening News on YOUR time.
The media landscape is changing. More and more people are getting their news and entertainment "on demand." KBOO is recruiting folks for our Evening News Web Team. Our purpose is to make sure that the KBOO Evening News along with locally produced segments are uploaded to this website within an hour after our 5 p.m. live radio broadcast. You do not need to have any web specific technical skills to join. We will train you. If you know how to update a Facebook page, then this will be an easy responsibility for you. This is the future of KBOO programming and a great opportunity for you to be part of it. We need folks who are available and willing to make a 2 hour weekly commitment to come into the station from 4:30 p.m. to 6:30 p.m. on any given weeknight.
If you are this person, then contact our volunteer Web Team Coordinator - Todd Altstadt, who can be reached at todd.michael.altstadt [at] gmail.com. Let Todd know what night you can come in and contribute to the future of KBOO Community Radio.
A quest to use mobile devices for citizen reporting.
KBOO's News and Public Affairs Director and Stanford University Knight Fellow Jenka Soderberg discusses her work to develop a mobile phone reporting and verification system for citizens and journalists.