It's KBOO's Fall Membership drive Donate Now!
Call 877-500-5266 (KBOO)
Donations as of 10/02/2014 7 AM:
Drive Goal:
$80,000
---
Direct Action at Multnomah County Foreclosure Auction
program date:
Sun, 05/17/2009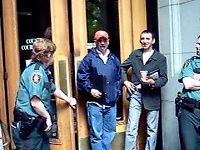 Every Monday morning, foreclosed and pre-foreclosure homes are auctioned off on the steps of the Multnomah County courthouse in downtown Portland. After demonstrations last week by several dozen protesters disrupted the auction, this week saw enhanced security and just a few observers. KBOO reporter David Rosenfeld was there and filed this report.
Producer: David Rosenfeld
Length: 5:10 minutes (4.73 MB)
Format: MP3 Mono 44kHz 128Kbps (CBR)